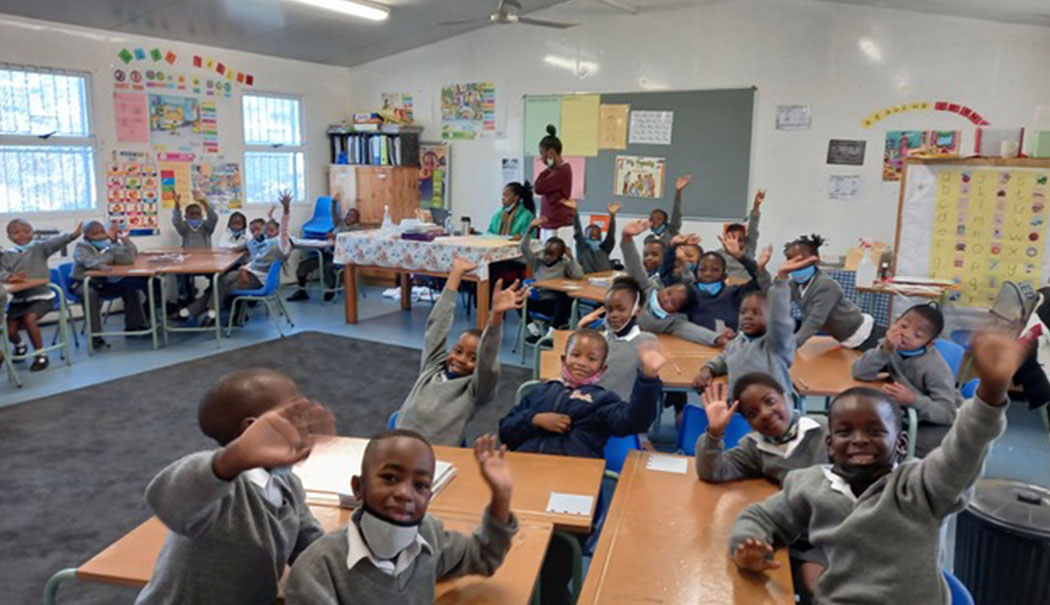 Recently, a large study concluded in the UK revealed that being born in poverty often determines how your life will play out, what opportunities you will have, and your quality of life. Unless you have people who believe in you and uplift you as a person holistically – giving you a quality education – and a safe environment where you can reach your full potential, great opportunities and quality of life don't come easily. Sadly, South Africans understand this all too well, where as many as 55% of the nation's kids live in poverty!
At Chic Mamas, we believe in lifelong learning and starting at the roots, where everything begins. Here is a summary of where our precious funding goes – thanks to our generous Chic Mamas and Love It Again community – where every rand is spent carefully and in the most beneficial way: caring for the children in our wider neighbourhoods.
CAPE TOWN
Vrygrond has been the focus of our support since we delivered our very first project in 2011 (this township, also known as Capricorn, is only a 10-minute drive from our main shop). Since then, we've donated millions of rands, mainly towards three amazing projects we selected as our main beneficiaries:
True-North Early Childhood Development (ECD) provides pre-school services to the maximum number of children for the child-space ratio, and supports these facilities to become legally registered pre-schools (to meet all the health, fire, building and organisational requirements to ensure a safe, sustainable and well-managed facility). It helps them to become financially sustainable, implement a quality educational programme by qualified staff (to provide a play-based learning environment that meets the age-appropriate needs of the children offered by caring and competent teachers), and have holistically developed leaders (to lead their staff, manage and grow their pre-schools and give back generously to their community). Currently, they look after 32 pre-schools within Vrygrond.
The Butterfly Art Project trains, mentors and supports adults working with children in marginalised communities bringing psycho-social support through art. These direct beneficiaries are Community Art Facilitators (CAFs), who establish art groups where their learned psycho-social skills are utilised with their child beneficiaries. As at May 2022, there were 249 CAFs working in 112 communities serving 10,219 children. In the past, it started as an Art Therapy Centre in Capricorn Primary School, which we have supported since 2011. Our funding contributes specifically to this centre, benefitting the children in the community.
The LifeMatters Foundation understands the education crisis South Africa faces. Their programmes address many of the issues that schools face but are ill-equipped to deal with. They practically equip and empower the kids in our wider communities to stay in school and become functional, contributing members of society. These programmes include literacy intervention, numeracy, life skills, counselling and more.
We have also managed to support other vital programmes in the area, like the Earthchild Winter camp over the last four years, Capricorn Primary Wordworx literacy programmes (until 2020), other pre-schools like Overcome and Sunrise Educare and many more. During Covid, we supported ten soup kitchens so that the people could survive the harsh conditions during the challenging times.
In Hout Bay, our focus had been educational support to Sentinel and Hangberg Pre-schools, trying to help with stationery, books or whatever the biggest need has been. Recently, the last few years shifted to ABC for Life, Bright Start, and Kroenandal Music Academy, and we have been supporting Intle Art to give hope to the youth in the Bay. A recent project – close to our hearts for its recycling element – Junk Stars became our new beneficiary.
DURBAN
In Durban, we're involved with four ECD Centres; Umzamo Day Care Centre in Reservoir Hills, Zamokuhle Creche & Preschool in KwaDabeka, Sekusile Day Care in KwaMashu and Sphethamandla Preschool and Creche in Clermont.
Umzamo's installation took place in 2015 and has become a flourishing beacon of hope for the informal settlement it serves and the fifty little people it cares for.
Zamokhule moved into their fully operational pre-school in 2019 and has flourished serving their adjacent community.
2021 saw Sekusile Day Care Centre join our pre-school group. An already established and successful school, they wished to have Chic Mamas' mentorship and oversight and have added much value to the mix.
Most recently, we are delighted to welcome Sphethamandla Preschool and Creche into the fold. Sphethamandla will operate from the Clermont facility where our previous pre-school, House of Hope, operated.
We also invest heavily in training and development. The early childhood phase is highly specialised, requiring teachers to be equipped with the skills and insights that enable their calling to be most effective.
JOZI
The Cradle of Hope is situated in an impoverished neighbourhood on the West Rand of Gauteng. They run a pre-school for 60 vulnerable children, who attend daily, where they're educated, nourished and fed. Chic Mamas Jozi takes pride in supporting this worthy cause, ensuring that the pre-school has the materials, teachers, food, and needs to make education a reality for these little people.
Another beneficiary is Daypsring Children's Village. This facility aims to intervene in the lives of at-risk children through Christian education and care. We aim to help them grow in capacity to reach more children in need of our care and see lives transformed and the cycle of poverty broken over their lives.
Hotel Hope is a brand new beneficiary from our Jozi chapter. We support their recently established Montessori pre-school stream exclusively for the children in their care at the Westdene home. They thrive on giving the kids the best possible ECD and helping them get school-ready.
Your donations matter. It's how you become a change agent and an active citizen.
By embracing sustainable fashion, you consciously work towards a better environment and contribute to something much bigger: giving children a caring environment to thrive. Thank you from the bottom of our hearts for being on board with us.
Thank you for caring with us!